This was so quick and delicious I thought I would share it with you. It is from a very old Good Food magazine.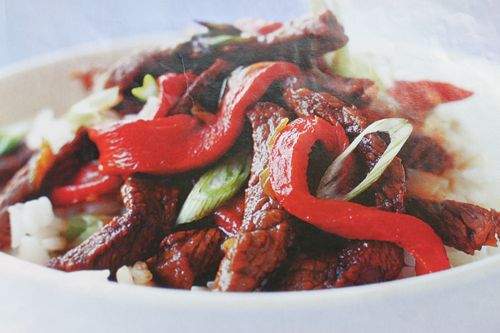 Beef Stir Fry
Takes 30 minutes and serves 2
You will need
350g beef (stir fry or rump or sirloin) cut into thin strips
2 tbsp balsamic vinegar
2 tbsp dark soy sauce
2 tbsp Worcestershire sauce
small bunch spring onions sliced on the diagonal
200g roasted antipasto peppers in oil drained and sliced
boiled rice, to serve
you could stir through a bag of mixed salad leaves just before serving
I roasted red & yellow pepper instead of the antipasto because I had them in.
Marinate the beef
Put the beef strips in a non-metallic bowl and cover with the vinegar, soy and Worcestershire sauce. Leave for 20 minutes, or if you have time, overnight.
Stir fry
Heat a dry wok until it is very hot. Tip in the beef, marinade and spring onions, stir fry for 2 – 3 minutes. Add the peppers then stir fry for another 2-3 minutes.
Serve with boiled rice.
It was quick
It looked pretty and
It tasted gorgeous
As usual I forgot to take a picture of the finished dish! I photographed the picture in the magazine