I almost didn't make this one! I have been poorly since Saturday with a dreadful tummy bug, in fact the entire family has it. I am blaming my nail technician, (sorry Sarah). Anyhow I am on the mend now, well enough in fact to be looking after the others and well enough to gather some white Shades of Autumn into a collage for Alicia's project.
I have been looking through some old photo albums and wanted to make this collage in a similar way. I used to crop with scissors in those days and lay one photo over and under another, leaving some space somewhere on the page for the date. Sticking and gluing that's always been me. Never happier or in more of a mess than when I'm playing with a pot of glue. Now I suppose my mouse is a bit like my glue.
I was really surprised to find so much white in Autumn but then that's the joy of a challenge like this, it encourages me to be more aware and photograph my world.
This is the last of Alicia's Shades of Autumn challenge, I have no doubt she will be back when she has settled.
Want to see everyone else's Autumn Whites?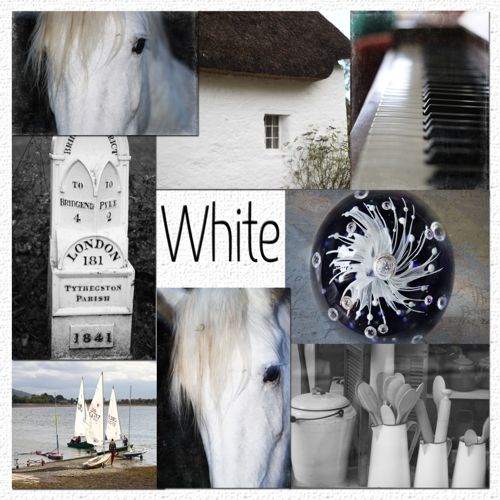 When I was trying to take the photo of the horse she wasn't being particularly co-operative, it was late in the afternoon and getting dark and on top of that I am afraid of horses. I wasn't sure I'd got anything from the first two shots with my little camera so, one more try before giving up in fear of her getting too close and clicked for the third time, she suddenly came really close to me and nieghed very loudly in my face.
I ran back to the car to see husband laughing and dog looking astonished. I got the two pictures for my collage, here is the third.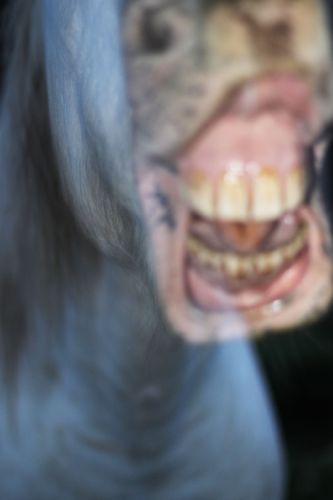 Has anything surprised you lately?